****Don't forget about the YCMT GIVEAWAY...
CLICK HERE TO ENTER
*****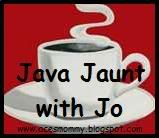 It's Thursday and time for my first Java Jaunt!! What is Java Jaunt?
The A-Priori Mommy
came up with this great idea last week and I am excited to be a part of it. The idea is simple grab a cup of java, scout for a blog that is new to you, spend at least 15-20 minutes reading their posts. Don't forget to go back a couple posts or even pick a different month, you never know what great gems you might find when you take the time. Lastly comment on their site.
If you really liked the site you visited, blog about it. Let all your readers know about your new blog find. Don't forget to link back to the blog (duh), but then go back to
The A-Priori Mommy
and link up your blog so all your Java Buddies can check you out as well.
Enjoy a cup with us and i'll bring the chocolate crescents!
Go to
The A-Priori Mommy
and grab her button!
Sign up with Mr Linky (which is on her post today)
Find a blog you haven't been to before.
Hop around for 15-20 minutes or more.
Then COMMENT!
I hope you will join us in our morning jaunt... i'm off to find a new friend :)